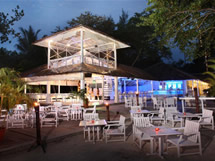 Yay! Friday is getting nearer and nearer. Will be going to Bintan
Nirwana Beach Club
with "F4+2+another one". While the purpose is to relax and enjoy ourselves, we are celebrating Gavin's birthday there as well as his birthday falls on the 31st of July.
I just have to comment on the service provided by the
agency
for our Bintan trip. A top notch customer service personnel,
Steve
responded to my question promptly and precisely. He traveled the extra miles to provide photos of the facilities I queried on.
Anyway, if you have noticed my tagboard, I have been ranting about the "BIBI 皮皮 player". Its actually a software similar to those popular ones like Sopcast, PPLive etc. Well, my sister have been watching her Taiwan drama using the player almost every night. And apparently, this 皮皮 player seems to be lagging my Internet connection. It lags like shit and even Wireless@SG with 1mbps signal strength is faster.
The problem actually doesn't lies with the stupid BIBI 皮皮 player. Whenever the desktop is switched on, my notebook would have notice the decrease in Internet connection speed. Unable to blame it on my MOL8k yet, I am looking to borrow a router to do some troubleshooting. Should it be true that it is due to ISP itself, ho ho ho.... goodbye starhub, hello singnet. But I am still binded by the stupid contract till year end.